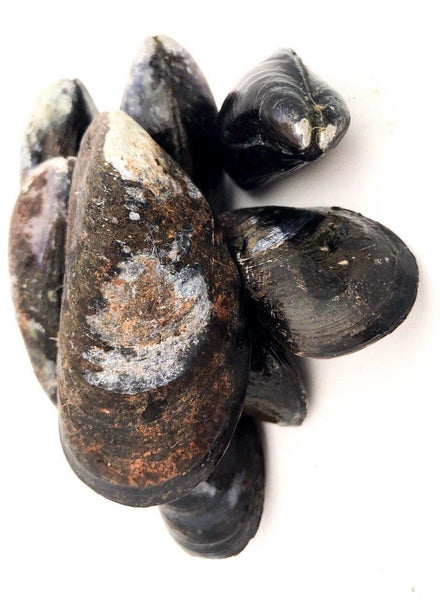 Prince Edward Island, Canada
Our PEI mussels are consistently clean, beautiful, and flavorful. These rope-cultured mussels are must-haves for your next dinner party. Of all the PEI mussels available, we stand by these because we can count on their quality. Treat them with kid gloves, and the result will be +++ for flavorful, tender meat. Try them steamed in white wine, butter, shallots, garlic, and black pepper. Or see recipe for hot spicy mussels below.  Party. Ready.
briny | sweet | poignant
briny | sweet | poignant
Pairs Perfectly with:
Dinner Parties
Beaucoup de Vino
Crab Claws
Streaming Sidney Poitier
Mussels in Spicy Tomato Sauce (serves 4)
 by Monica Lo (@sousweed)
Ingredients: 
3 Tbsp butter
1 yellow onion, chopped
4 cloves garlic, minced 
3 large tomatoes, heirloom preferred, diced
2 Tbsp tomato paste
1/2 cup white wine1/2 cup water
3 Tbsp parsley, chopped
1 1/2 tsp dried oregano
Kosher salt
Cracked black pepper
Red pepper flakes
4-5 lb PEI mussels, cleaned 
Crusty bread
Directions:
In a large stockpot over medium heat, melt butter. Add chopped onions and cook until soft, about 5 minutes. Add garlic and cook for another minute. 
Add diced tomatoes, tomato paste, white wine, water, parsley, and oregano. Stir well until combined. Season to taste with salt, black pepper, and red pepper flakes. 
Add mussels to the pot and stir to cover in sauce. Cover the pot and cook for 3 minutes. Open the lid; remove and plate the open mussels. Allow the pot to continue simmering for a few minutes more, plating any mussels that open and discarding the ones that do not. 
Ladle the spicy tomato sauce over the mussels and serve with fries or crusty bread. 
From
the
Farm
Select PEI farms.