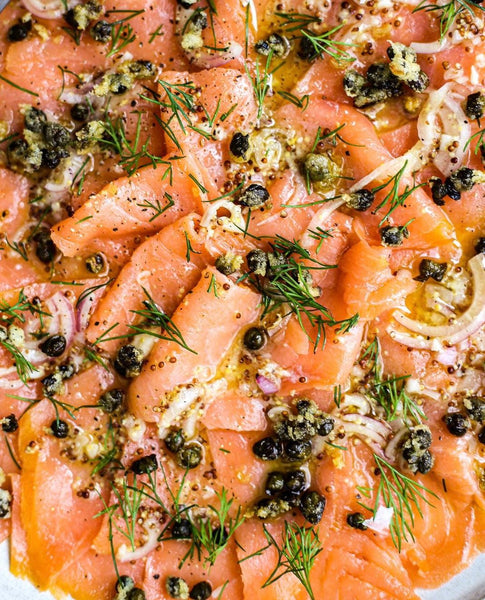 Luscious + Bright
Fresh, organic Irish salmon, sugar, sea salt, and pure scotch whiskey over hickory and applewood smoking. The rich flavor, texture, and color make this Scotch Salmon well-balanced, luscious, and bright. Note that smoked fish has a long shelf life. Sealed smoked fish lasts several weeks in the fridge and frozen smoked fish lasts a few months. This is an add-on menu item only. Must be purchased with oysters or shellfish.
delicacy | delight
delicacy | delight
Pairs Perfectly with:
Brunch, Baby
Buckets of Champagne
Cocktails and Oysters
Appetizers
Smoked Salmon Carpaccio  (recipe and photo from the defineddish)
FOR THE DRESSING:
¼ cup good extra virgin olive oil
1 clove garlic minced
1 tablespoon fresh lemon juice
1 teaspoon grainy dijon mustard
1 small shallot halved lengthwise and thinly sliced into half-moons
FOR THE CRISPY CAPERS:
2 tablespoons drained capers
1 teaspoon flour 
2 tablespoons extra virgin olive oil
For the Dressing:
In a bowl, combine all the dressing ingredients and whisk until well combined. Set aside while you prepare the capers.
For the Crispy Capers:
In a small bowl, toss the drained capers in the cassava flour until evenly coated.
Heat a small nonstick skillet over medium heat with olive oil. When the skillet is hot, add the capers to the skillet and cook until golden brown and crisp, about 3 minutes, tossing halfway through. Transfer the capers to a paper towel-lined plate and let cool.
For the Smoked Salmon:
Cut the smoked salmon into 2-inch pieces and arrange on a large plate in a single layer.
Spoon the dressing over the salmon evenly. Next, top with crispy capers. Lastly, finish the dish with fresh dill and cracked pepper. Serve alongside crostini.
From
the
Farm
Irish Scotch Salmon, Browne Trading