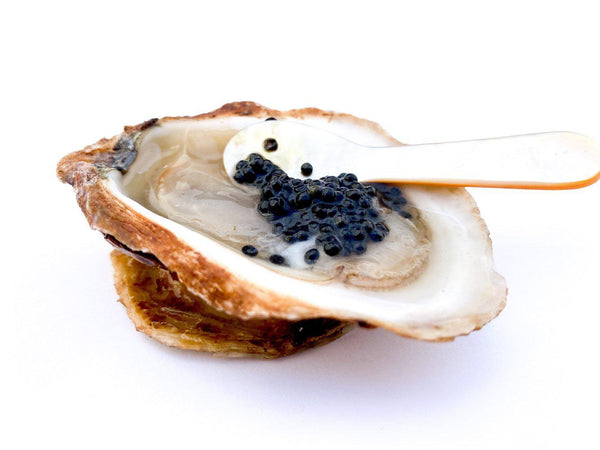 Dazzle + Pop
Dazzle + Pop: It's a caviar mic drop. We're thrilled to partner with caviar experts Browne Trading to bring you five delectable caviars and two premium roes. Pop it on an oyster and it'll up the wow flavor factor x ten. Pop it on melba toast with crème fraîche and you'll be addicted to its nuance. Each 1 or 2 oz. jar of caviar comes with a mini mother-of-pearl spoon in a custom ROC muslin bag.
All Browne Trading caviar is graded by Caviar Master, Richard Hall. Grading is the evaluation of the caviar's tone: color, texture: firmness, and taste. 
Osetra Supreme (Poland) A supreme flavor experience: Dark amber, nutty, full, firm-textured medium-sized pearls. Osetra supreme caviar (farmed) brings all the attributes of its wild counterpart: dive deep into brine.
Siberian Supreme (Poland) A supreme flavor experience: Chocolate-colored, buttery, texture-rich distinct pearls, exuding a well-balanced taste of the sea. A+ for the value.
Royal Belgian Siberian (Belgian) A supreme flavor experience: Dark Charcoal to black olive, buttery, texture-rich distinct pearls, mildly sweet.
Classic White Sturgeon (California, USA) A farmed species native to the United States: striking black roe and medium-sized pearls with a delicate and creamy flavor. Its lingering finish entices.
Royal Belgian Platinum Caviar (Belgium) The crème de la crème. The child of Osetra (Father) and Siberian sturgeon (Mother): it has Osetra's remarkably nutty, rich, large firm platinum pearls crossed with Siberian's sweet smooth finish. Delectable.
Salmon Roe (Alaska) A large vibrant golden orange egg with a firm texture. A strong salmon flavor delicately balanced by natural honey sweetness. Delightfully delicious.
Trout Roe (Denmark) Petite in size compared to the Salmon Roe: its pearls are firm, crunchy, and go "pop."  Vibrant. Translucent. Golden. One of our faves.
Wasabi Tobikko Roe (America) Addictive. This flying fish roe is infused with Japanese horseradish (wasabi) and has an effervescent green hue. A distinctive firm texture and shine make this perfect for sushi or a snack on chips. 
Note: caviar will remain optimal in your fridge, unopened, for 4-6 weeks. Once opened, best devoured within three days.
delicacy | delight
delicacy | delight
Net Wt. 28.4g / 30g
Pairs Perfectly with:
Spring Flings
Buckets of Champagne
Cocktails and Oysters
Celebration Time 
FromtheFarm
Poland, Missouri, Mississippi, California, USA, Belgium, Alaska, Denmark