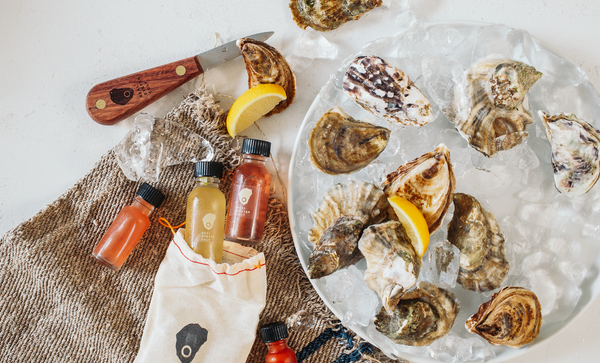 Cult Monthly Membership
Get a special, curated-surprise oyster selection every month. Rock 'n roll: Oyster party at your place. 

Member Benefits:
1st Member Box: Receive Free Branded Gloves + Knife and Tasting Journal.
2nd + 3rd Box: Get exclusive discounts on delectables like caviar, lobster, and mussels. Plus, ROC Threads. 
Membership Choices:
20 count: 1 type $51
20 count duo:  2 types $56
30 count trio:  3 types $79
40 count duo:  2 types $89
60 count trio:  3 types $114
70 count trio: 3 types $129
How it works: 
We handpick peak-season oysters for your devouring pleasure. Want more than one flavor? Try a duo: enjoy a party of two kinds. Still not satisfied? Choose a trio: get a three-way.  
Choose your first delivery date: Then a week before your card is charged for your 2nd box, you'll get an email with instructions to customize your next delivery or to add products. Easy-Peasy. Also, you can reach out to the chat (bottom right) or team@realoystercult.com for help at any time.
Gifting or Special Instructions: If you're gifting this membership, please include the giftee's email in the "notes" section so we can make sure they receive notifications. 
Our Choice | Your Delight 
2.75 - 3.25 inches
Pairs Perfectly with:
The Oyster Lover
The Mother Shucker
Gift Giving
Foodies
From
the
Farm
North American oyster farms grow some of the world's most crave-able oysters. Like wine, their flavors and textures can vary greatly (even within the same oyster family), depending upon the season. From the crowd-pleasing Kumamoto from Washington to the kissable Pink Moon from PEI, there's a peak season for each. We'll choose only what's in season, so every time it'll be your favorite oyster ever.
The Gritty Details:
Your card will be billed once a month, with the option to cancel anytime. We'll deliver your delectable oysters once a month. Not going to be around? No worries: pause your order, change the delivery address, or gift to one of your awesome friends.